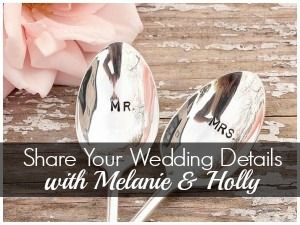 Hey all! I am linking up today with Holly and Mel! At first I was like, ummm...I have been married THREE times, shall I share all of them. HELL NO! I will share the happily ever after one, with you. The one that many thought wouldn't last. The one that I have fought so hard to make work. The one, I seriously thought could end. The one that I know in my heart will always last. The one where I married the true love of my life, the best daddy in the world and my best friend...
I met Ray YEARS ago, like in the early 90's. We had mutual friends. I had a HUGE crush on Ray. He was just dreamy and so mysterious. One night when we were at a bar, some dork wouldn't stop hitting on me, so I looked to Ray, to rescue me. So he starts holding my hand, to let this dork know, I was taken. I was in serious HEAVEN! So as the night came to an end....Ray kissed me in the parking lot and we held hands on the drive home. I was so excited. UNTIL HE NEVER CALLED ME!!!!!!! Yep, he was just too cool for me, I guess. Fast forward 10 years later and me going through a divorce. I was home for the holiday's from NYC and I saw him, at a friends house. He told me I looked like a super model and could get any man I wanted. I looked him dead in the eye and said, "we'll see about that". This was 02. So I move home for good, in April of 03 and Ray and I start dating. We were together every day. I instantly fell in love with him. It was something I had never had before. I was 100% content and confident. We moved in together that fall (yes, this was fast considering I was divorced) . People were skeptical but my previous relationship was over 2 years, before it was truly over. Any who, Ray proposed to me on July 30th, 2004. He did this in the kitchen as I was standing there in my jammies. See he tried to do the whole romantic proposal, but I was a BITCH, the day he tried so hard. He took me for a drive to find the perfect romantic spot and I was not having it. He even tried later that night with champagne and Thai food. After he proposed I called my sisters, because I was SO excited. My older sister took us to dinner and we all got pretty tanked! Fast forward exactly one week later, I AM PREGNANT! It took 5 or 6 tests for it all to sink in. SO my already semi-planned beach wedding in Florida, just got nixed! Yep, time for plan B.
Location: My older sister's backyard with 50 of our family members and a few very close friends. It was the most beautiful day. Not a cloud in the sky and 80 degrees. We were married on September 18th. We had a bbq in the backyard, that was catered by Corky's BBQ.
Bridal Party: Both of my beautiful sisters were Matron of Honor's and Ray's brother was the best man.
Color: My dress was a strapless eyelet number I got from Banana Republic for $40 on clearance. Original dress was from the J Crew collection. Yeah, not happening with my pregnant boobs. They grew at an unheard of pace! My sisters both wore pretty lavender shirts with black skirts. My flowers were hot pink Gerber Daisy's.
Dance: Ummm...there was no dance or DJ. We did play some music though. :)
Honeymoon: Non existent. I was SO tired and we were SO poor, this just wasn't in the cards. Ray got drunk and passed out the moment we got home. I guess he figured I was already knocked up! :) We will get our dream honeymoon next fall. We are getting that beach wedding in St. Pete, after all. We will renew our vows for our ten year anniversary and then fly off to Cabo, without the kiddos! Perks of having my parents live in Florida!
What would I change: Absolutely nothing. We made the best of what we had. It was the perfect day. The day I truly got my happily ever after....
Wait I would change the fact that my dad went on a "I am going to preach to all of you about what drinking does to your brain" thingy and he started to empty booze bottles. I think dear dad, had one too many, himself! Just sayin... ;)